Hypertension Treatment: The Role of Vitamin B12 and D Levels, Life Style, and Medication

Abstract views: 42 /

PDF downloads: 25
Keywords:
Hypertension, Mediterranean Diet, Vitamin B12, Vitamin D
Abstract
Objective: Hypertension is an important public health problem worldwide, caused by the contribution of both genetic and environmental factors. Epidemiological studies have revealed that many environmental factors such as obesity, alcohol consumption, sodium intake and physical inactivity are associated with hypertension. Our aim is to evaluate the importance of vitamin B12 and vitamin D levels, lifestyle and nutrition in hypertensive patients and to review the effects of drugs used in the treatment of hypertension in the light of the literature.
Materials and Methods: Our study includes 40 patients followed up for hypertension between March 2021 and March 2023. In addition to routine laboratory tests, the levels of vitamin B12, vitamin D, folate and magnesium were measured in the patients. Salt-free Mediterranean diet was recommended to the patients. Our findings were expressed as mean ± standard deviation (SD) and number (percent). The t test was used for statistical analysis and a p value less than 0.05 was considered statistically significant.
Results: Twenty (50%) patients who participated in the study were female and 20 (50%) patients were male. The ages of the patients ranged from 36 to 77, and the mean age was 60.87±10.65 years. Vitamin B12 deficiency was detected in 6 (15%) patients. There was no significant difference between both genders in terms of mean vitamin B12 level (p>0.05). Vitamin D levels were below the normal level in all patients. The mean vitamin D level in female patients was significantly lower than in male patients (p<0.05). Atrial fibrillation (AF) was detected in 10 (25%) patients.
Conclusion: Vitamin D deficiency is common in patients with hypertension. Vitamin B12 deficiency should be taken into account in hypertension patients treated with metformin due to concomitant diabetes. Drug therapy in hypertension should be adjusted taking into account the accompanying diseases. Salt restriction, Mediterranean diet, outdoor activities in sunny weather and avoiding stress are the main lifestyle changes that should be applied in the treatment of hypertension. With appropriate lifestyle changes, the dose of antihypertensive drugs can also be reduced.
References
Goshgarian C, Gorelick PB. Perspectives on the relation of blood pressure and cognition in the elderly. Trends in Cardiovascular Medicine 2019;29(1):12-8.
Gorelick PB, Furie KL, Iadecola C, Smith EE, Waddy SP, Lloyd-Jones DM, et al. Defining optimal brain health in adults. A presidential advisory from the American Heart Association/American Stroke Association. Stroke 2017;48.
Wang C, Yuan Y, Zheng M, Pan A, Wang M, Zhao M, et al. Association of Age of Onset of Hypertension With Cardiovascular Diseases and Mortality. J Am Coll Cardiol. 2020;75(23):2921-2930. doi: 10.1016/j.jacc.2020.04.038. PMID: 32527401.
Tamura T, Kuriyama N, Koyama T, Ozaki E, Matsui D, Kadomatsu Y, et al. Association between plasma levels of homocysteine, folate, and vitamin B12, and dietary folate intake and hypertension in a cross-sectional study. Sci Rep. 2020;10(1):18499. doi: 10.1038/s41598-020-75267-3. PMID: 33116160; PMCID: PMC7595187.
Silva IVG, de Figueiredo RC, Rios DRA. Effect of Different Classes of Antihypertensive Drugs on Endothelial Function and Inflammation. Int J Mol Sci. 2019 Jul 14;20(14):3458. doi: 10.3390/ijms20143458.
Reeve E, Jordan V, Thompson W, Sawan M, Todd A, Gammie TM, Hopper I, Hilmer SN, Gnjidic D. Withdrawal of antihypertensive drugs in older people. Cochrane Database Syst Rev. 2020 Jun 10;6(6):CD012572. doi: 10.1002/14651858.CD012572.pub2. PMID: 32519776; PMCID: PMC7387859.
Alaa Diab, L Nedda Dastmalchi, Martha Gulati, Erin D Michos. A Heart-Healthy Diet for Cardiovascular Disease Prevention: Where Are We Now? Vascular Health and Risk Management 2023:19.
Whelton, P.K.; Carey, R.M.; Aronow, W.S.; Casey, D.E.; Collins, K.J.; Himmelfarb, C.D.; DePalma, S.M.; Gidding, S.; Jamerson, K.A.; Jones, D.W.; et al. 2017 ACC/AHA/AAPA/ABC/ACPM/AGS/APHA/ASH/ASPC/NMA/PCNA guideline for the prevention, detection, evaluation, and management of high blood pressure in adults: A report of the american college of cardiology/american heart association task force on clinical practice guidelines. J. Am. Coll. Cardiol. 2018, 71, e127–e248.
Aydoğdu S, Güler K, Bayram F, Altun B, Derici Ü, Abacı A ve ark. Türk Hipertansiyon Uzlaşı Raporu 2019. Turk Kardiyol Dern Ars 2019;47(6):535-546 doi: 10.5543/tkda.2019.62565.
Middeldorp ME, Ariyaratnam JP, Kamsani SH, Albert CM, Sanders P. Hypertension and atrial fibrillation. J Hypertens. 2022 40(12):2337-2352. doi: 10.1097/HJH.0000000000003278. Epub 2022 Oct 4. PMID: 36204994.
Gimbrone, M.A.; García-Cardeña, G. Endothelial cell dysfunction and the pathobiology of atherosclerosis. Circ. Res. 2016, 118, 620–636.
Ölmez E. Antihipertansif İlaçlar. Turkiye Klinikleri J Cardiol-Special Topics 2009;2(5):1-12.
Cameron, A.C.; Lang, N.N.; Touyz, R.M. Drug treatment of hypertension: Focus on vascular health. Drugs 2016, 76, 1529–1550.
Carey RM, Moran AE, Whelton PK. Treatment of Hypertension: A Review. JAMA. 2022;328(18):1849–1861. doi:10.1001/jama.2022.19590.
Çiçek Yılmaz D. Dirençli hipertansiyon tanımı, prevelansı ve etyopatogenezi. Akkuş MN, Çelik A, editörler. Hipertansiyon. 1. Baskı. Ankara: Türkiye Klinikleri; 2021. p.38-42.
Taddei, S.; Virdis, A.; Ghiadoni, L.; Sudano, I.; Salvetti, A. Effects of antihypertensive drugs on endothelial dysfunction: Clinical implications. Drugs 2002, 62, 265–284.
P. Kirchhof, S. Benussi, D. Kotecha, A. Ahlsson, D. Atar, B. Casadei, et al., ESC Guidelines for the management of atrial fibrillation developed in collaboration with EACTS, Eur. Heart J. 37 (2016) 2893–2962.
G.Y. Lip, L. Frison, M. Grind, SPORTIF Invetigators. Effect of hypertension on anticoagulated patients with atrial fibrillation, Eur. Heart J. 28 (2007) 752–759.
Ertaş FS. Sistemik hipertansiyon tedavisinde nebivolol'ün yeri. Updates Cardiol 2019;2(1):15-19 doi: 10.5543/ucard.2019.76486.
Oigman, W.; Fritsch, M. Antagonistas de canais de cálcio. HiperAtivo 1998, 5, 104–109.
Goodman & Gilman. As Bases Farmacológicas da Terapêutica, 12th ed.; Artmed: Guelph, ON, Canada, 2012; p. 2101.
Kallistratos MS, Poulimenos LE, Manolis AJ. Atrial fibrillation and arterial hypertension. Pharmacol Res. 2018;128:322-326. doi: 10.1016/j.phrs.2017.10.007. Epub 2017 Oct 18. PMID: 29055746.
Özdemir M, keleş T, Diker E, Aydoğdu S, Şaşmaz H, tuncer H, ve ark. Effects and Safety of Doxazosin in Mild to Moderate Essential Hypertension. Turk Kardiyol Dern Ars. 1996; 24(7): 421-424.
ALLHAT Officers and Coordinators for the ALLHAT Collaborative Research Group. Major outcomes in high-risk hypertensive patients randomized to angiotensin-converting enzyme inhibitor or calcium channel blocker vs. diuretic: The Antihypertensive and Lipid-Lowering Treatment to Prevent Heart Attack Trial. JAMA 2002;288:2981-97.
Linz D, van Hunnik A, Hohl M, Mahfoud F, Wolf M, Neuberger HR, et al. Catheter-based renal denervation reduces atrial nerve sprouting and complexity of atrial fibrillation in goats. Circ Arrhythm Electrophysiol 2015; 8:466–474.
Dzeshka MS, Shantsila A, Shantsila E, Lip GYH. Atrial Fibrillation and Hypertension. Hypertension. 2017;70(5):854-861.
Dzeshka MS, Shahid F, Shantsila A, Lip GY. Hypertension and atrial fibrillation: an intimate association of epidemiology, pathophysiology, and outcomes. Am J Hypertens. 2017;30:733–755.
G. Mancia, R. Fagard, K.J. Narkiewicz Redón, A. Zanchetti, M. Böhm, et al., Task Force Members. 2013 ESH/ESC Guidelines for the management of arterial hypertension: the Task Force for the management of arterial hypertension of the European Society of Hypertension (ESH) and of the European Society of Cardiology (ESC), J. Hypertens. 31 (2013) 1281–1357.
Middeldorp ME, Ariyaratnam JP, Kamsani SH, Albert CM, Sanders P. Hypertension and atrial fibrillation. J Hypertens. 2022 40(12):2337-2352. doi: 10.1097/HJH.0000000000003278. Epub 2022 Oct 4. PMID: 36204994.
Santoro F, Di Biase L, Trivedi C, Burkhardt JD, Paoletti Perini A, Sanchez J, et al. Impact of uncontrolled hypertension on atrial fibrillation ablation outcome. JACC Clin Electrophysiol 2015; 1:164–173.
Valenzuela PL, Carrera-Bastos P, Ga´lvez BG, Ruiz-Hurtado G, Ordovas JM, Ruilope LM, et al. Lifestyle interventions for the prevention and treatment of hypertension. Nat Rev Cardiol 2021; 18:251–275
R. Nagarakanti, L. Wallentin, H. Noack, M. Brueckmann, P. Reilly, A. Clemens, et al., Comparison of characteristics and outcomes of dabigatran versus warfarin in hypertensive patients with atrial fibrillation (from the RE-LY Trial), Am. J. Cardiol. 116 (2015) 1204–1209.
E. Kodani, H. Atarashi, H. Inoue, K. Okumura, T. Yamashita, T. Otsuka et al, J-RHYTHM Registry Investigators. Impact of blood pressure control on thromboembolism and major hemorrhage in patients with nonvalvular atrial fibrillation: a subanalysis of the J-RHYTHM registry, J. Am. Heart Assoc. (2016) 5.
A.U. Klingbeil, M. Schneider, P. Martus, F.H. Messerli, R.E. Schmieder, A meta-analysis of the effects of treatment on left ventricular mass in essential hypertension, Am. J. Med. 115 (2003) 41–46.
GISSI-AF Investigators; Disertori M, Latini R, Barlera S, Franzosi MG, Staszewsky L, Maggioni AP, Lucci D, Di Pasquale G, Tognoni G. Valsartan for prevention of recurrent atrial fibrillation. N Engl J Med. 2009;360(16):1606-17. doi: 10.1056/NEJMoa0805710.
Rahman F, Yin X, Larson MG, Ellinor PT, Lubitz SA, Vasan RS, McManus DD, Magnani JW, Benjamin EJ. Trajectories of risk factors and risk of new-onset atrial fibrillation in the Framingham Heart Study. Hypertension. 2016;68:597–605.
Rodrigo R, Passalacqua W, Araya J, Orellana M, Rivera G. Homocysteine and essential hypertension. J Clin Pharmacol. 2003;43(12):1299-306.
De Pergola G, D'Alessandro A. Influence of Mediterranean Diet on Blood Pressure. Nutrients. 2018;10(11):1700. doi: 10.3390/nu10111700. PMID: 30405063; PMCID: PMC6266047.
Marcus GM, Vittinghoff E, Whitman IR, Joyce S, Yang V, Nah G, et al. Acute Consumption of Alcohol and Discrete Atrial Fibrillation Events. Ann Intern Med. 2021;174(11):1503-1509. doi: 10.7326/M21-0228.
Moreno-Luna R, Muñoz-Hernandez R, Miranda ML, Costa AF, Jimenez-Jimenez L, Vallejo-Vaz AJ, et al. Olive oil polyphenols decrease blood pressure and improve endothelial function in young women with mild hypertension. Am J Hypertens. 2012 Dec;25(12):1299-304. doi: 10.1038/ajh.2012.128.
Medina-Remón A, Estruch R, Tresserra-Rimbau A, Vallverdú-Queralt A, Lamuela-Raventos RM. The effect of polyphenol consumption on blood pressure. Mini Rev Med Chem. 2013;13(8):1137-49. doi: 10.2174/1389557511313080002. PMID: 22931531.
Cronin P, Joyce SA, O'Toole PW, O'Connor EM. Dietary Fibre Modulates the Gut Microbiota. Nutrients. 2021;13(5):97.
Witkowski M, Weeks TL, Hazen SL. Gut Microbiota and Cardiovascular Disease. Circ Res. 2020;127(4):553–570.
Reynolds A, Mann J, Cummings J, Winter N, Mete E, Te Morenga L. Carbohydrate quality and human health: a series of systematic reviews and meta-analyses. Lancet. 2019;393(10170):434–445.
Renke G, Starling-Soares B, Baesso T, Petronio R, Aguiar D, et al. Effects of Vitamin D on Cardiovascular Risk and Oxidative Stress. Nutrients. 2023;15(3):769. doi: 10.3390/nu15030769. PMID: 36771474; PMCID: PMC9920542.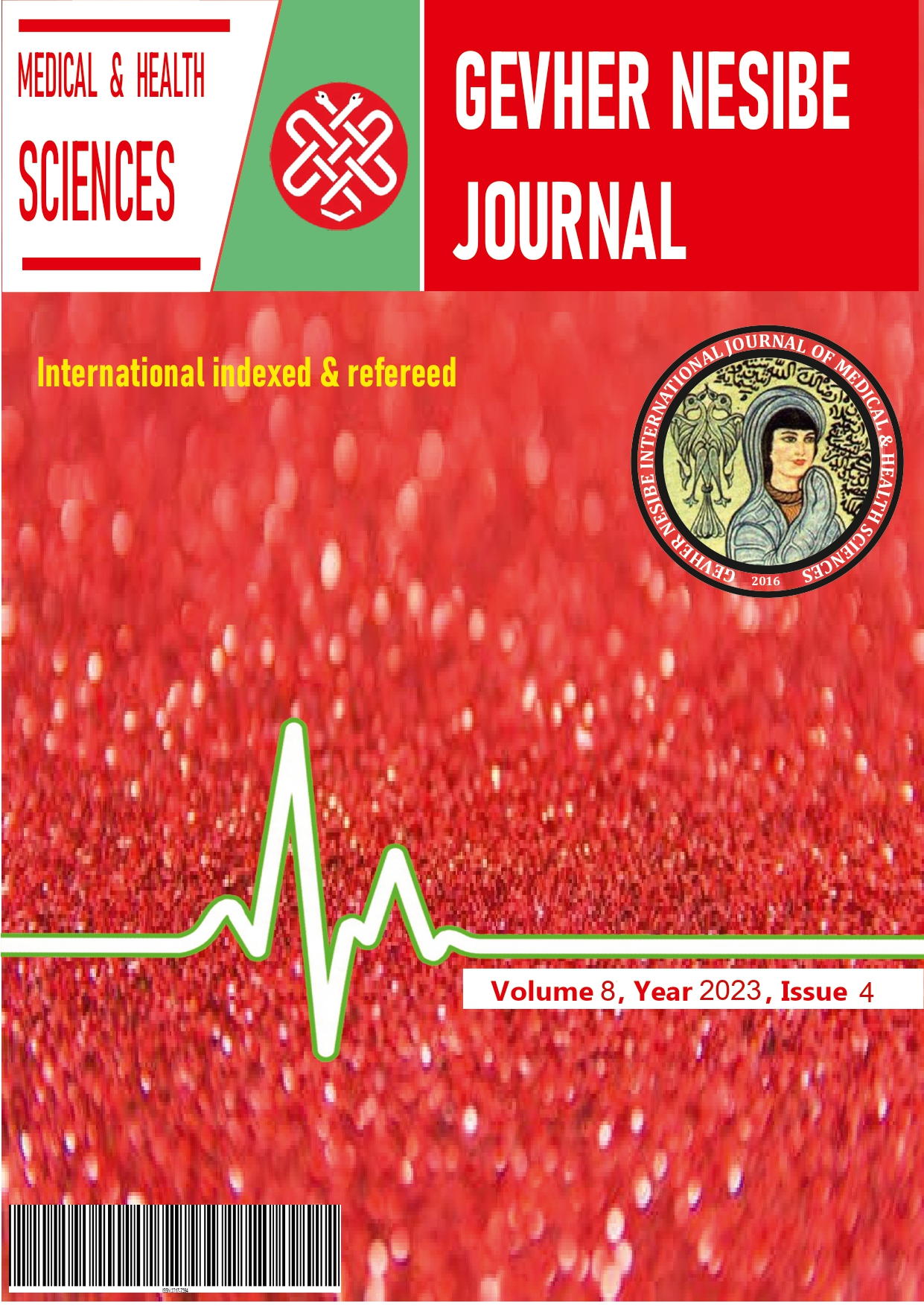 Downloads
How to Cite
EKİM , M., & EKİM , H. (2023). Hypertension Treatment: The Role of Vitamin B12 and D Levels, Life Style, and Medication. GEVHER NESIBE JOURNAL OF MEDICAL AND HEALTH SCIENCES, 8(4), 978–987. https://doi.org/10.5281/zenodo.10046284
License
Copyright (c) 2023 GEVHER NESIBE JOURNAL OF MEDICAL AND HEALTH SCIENCES
This work is licensed under a Creative Commons Attribution-NonCommercial 4.0 International License.