Examination Of The Relationship Between Sustainable Nutritional Behaviors With Nutritional Knowledge Level And Body Mass Index

Abstract views: 955 /

PDF downloads: 902
Keywords:
Body Mass Index, Food, Nutrition, Knowledge, Sustainable
Abstract
Aim: The aim of this study is to examine the relationship between sustainable nutrition behaviors, nutritional knowledge levels and body mass index (BMI) of the students of the Department of Nutrition and Dietetics. Materials and Methods: A survey consisting of sociodemographic characteristics, nutritional status, questions about sustainable nutrition, frequency of food consumption and general nutrition knowledge questionnaire scale was applied to a total of 190 students studying at the Department of Nutrition and Dietetics at Istanbul Aydın University. Results: This study consisted of 190 students, 8.9% male and 91.1% female, with a mean age of 21.32±2.832 years. The rate of being overweight for male students is higher than female students (p<0.05). Majority of the students skip meals (p>0.05) and the most skipped main and snack meals is lunch (p>0.05) and mid-morning meal (p<0.05). The majority of students have heard the concept of sustainable nutrition (p<0.05), and have heard it mostly by a dietitian/nutritionist (p>0.05). Most of the students think that sustainable nutrition has a positive effect on health and economy (p>0.05). Students believe that sustainable nutrition is more suitable for healthy adults (p>0.05) and is applied due to environmental health protection (biodiversity and natural habitats) (p>0.05). Students think that the content of sustainable nutrition is mostly vegetables and fruits (p>0.05) and sustainable nutrition can contribute to agricultural economy, farmer income (p<0.05) and consumer consciousness (p>0.05). In sustainable food supply and consumption, students pay attention the most that packaged products is not damaged/opened/deformed (p>0.05). Students support the most seasonal food sales among sustainable food production incentive plans (p>0.05). The general nutritional knowledge levels of students with underweight is found to be higher (p>0.05). Conclusion: Students' level of hearing the concept of sustainable nutrition and their general nutritional knowledge status is high. Students with low BMI have higher nutritional knowledge levels.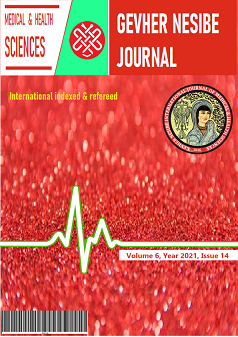 Downloads
How to Cite
ÖZÜPEK, G., & ARSLAN, M. (2022). Examination Of The Relationship Between Sustainable Nutritional Behaviors With Nutritional Knowledge Level And Body Mass Index. GEVHER NESIBE JOURNAL OF MEDICAL AND HEALTH SCIENCES, 6(14), 68–79. https://doi.org/10.46648/gnj.266
License
This work is licensed under a Creative Commons Attribution-NonCommercial 4.0 International License.