Artificial Intelligence Based Clinical Decision Support Systems In Health Sciences

Abstract views: 941 /

PDF downloads: 805
Keywords:
Health Sciences, Artificial Intelligence, Clinical Decision Support Systems
Abstract
Many artificial intelligence technologies are used in health sciences. Artificial intelligence-based clinical decision support systems are computer-aided systems designed to help healthcare professionals make decisions on various issues. With clinical decision support systems, it provides support to physicians in many areas with diagnosis, treatment, drug prescribing, drug interactions, dose adjustment, warning systems, as well as storing existing data, recalling them when necessary, establishing new relationships among data. By analyzing patient-specific medical data with artificial intelligence-based clinical decision support systems, it supports the healthcare professionals in making rational decisions in the healthcare process. In this review, conceptual information such as the definition, structure and classification of clinical decision support systems, as well as the advantages and disadvantages of these systems, the methods used in artificial intelligence-based systems, and their types are included. The most accurate use of limited professional manpower and limited resources is promising in terms of sustainable health care with patient-oriented, user-friendly artificial intelligence systems solutions.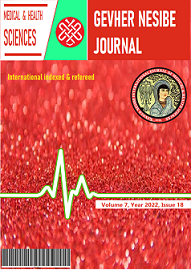 Downloads
How to Cite
AKALIN, B., & VERANYURT, Ülkü. (2022). Artificial Intelligence Based Clinical Decision Support Systems In Health Sciences. GEVHER NESIBE JOURNAL OF MEDICAL AND HEALTH SCIENCES, 7(18), 64–73. https://doi.org/10.46648/gnj.368
License
This work is licensed under a Creative Commons Attribution-NonCommercial 4.0 International License.