Artıfıcıal Intellıgence Methods in Oncology

Abstract views: 821 /

PDF downloads: 688
Keywords:
Artificial Intelligence, Health, Oncology
Abstract
Artificial intelligence has contributed significantly to solving various medical problems, including cancer, over the past decade. Artificial intelligence is being applied more and more in various fields of cancer research. Today, artificial intelligence methods provide physicians with important privileges in making decisions, providing more effective service to managers and minimizing costs, reducing the workload of healthcare professionals, and receiving the treatment with the highest accuracy rate for the patient and the least error rate. This review can be evaluated in two categories. First of all, common diseases in the field of oncology and the use of artificial intelligence in the field of oncology are supported with examples. In the second category, 23 recent studies in the field of oncology in the literature summary table; artificial intelligence methods are divided into categories and accuracy rates are presented. It is thought that the rapidly developing artificial intelligence technology will continue to have a great impact in the field of cancer in the near future. As a result, it is thought that physicians and researchers should include artificial intelligence training courses in their multidisciplinary study and training curricula, keeping pace with the digitalizing new age in healthcare, with the widespread use of artificial intelligence-based clinical decision support systems, personalized medicine, time in diagnosis and treatment, reducing the error rate and it will provide an important advantage in terms of patient and employee satisfaction and both cost-effective and quality service delivery.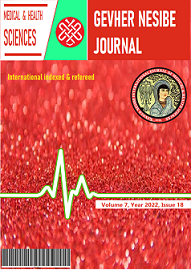 Downloads
How to Cite
ALP, F., & AKALIN, B. (2022). Artıfıcıal Intellıgence Methods in Oncology . GEVHER NESIBE JOURNAL OF MEDICAL AND HEALTH SCIENCES, 7(18), 81–92. https://doi.org/10.46648/gnj.387
License
This work is licensed under a Creative Commons Attribution-NonCommercial 4.0 International License.