The Important Concept in Children with Chronic Cough: Protracted Bacterial Bronchitis

Abstract views: 132 /

PDF downloads: 93
Keywords:
Childhood, Chronic Cough, Childhood, Chronic Cough, Protracted Bacterial Bronchitis
Abstract
Objective: Chronic cough is a common problem in childhood. In chronic productive cough; there may be important underlying etiological causes such as protracted bacterial bronchitis (PBB), cystic fibrosis, primary ciliary dyskinesia, and immunodeficiencies. PBB is very important especially in terms of causing irreversible bronchiectasis in the long term. In our study, it was aimed to examine the history, clinical, radiological and laboratory findings and evaluation results of the patients over the age of 6 who were diagnosed with PBB in the clinical follow-up.
Materials-Methods: The documents of children over the age of 6 who applied to the pediatric allergy outpatient clinic between January 2021 and June 2022 for more than 4 weeks of productive cough were evaluated retrospectively.
Results: 48 patients aged 6-15.5 years were included in the study. The median age of the patients was 9.2 (6-15.5) years, 62.1% of them were male. The median duration of cough was 7 (4-10) weeks. On physical examination, respiratory sounds were normal in 56.25% of the patients, bilateral crepitant rales in 12 patients, and secretion rales in 9 patients. Considering the radiological findings; Chest X-ray was normal in 60.4% of the patients, peribronchial thickening was present in 35.4%, and chronic changes were present in 4.2%. Thoracic tomography was performed in 16 (33.3%) patients who did not respond to 2-week antibiotic treatment and 56.25% were found to be normal. Sputum culture was obtained in 47.9% of the patients; normal oropharyngeal flora was isolated in 6 patients, Streptococcus pneumonia in 3 patients and Haemophilus influenzae in 2 patients. The sputum culture of the other patients was negative. Antibiotics were given to the patients for 2 weeks in the first stage. In the first control, cough of 32 patients were resolved with treatment. Although the complaints of 8 patients decreased, their productive cough continued, the complaints of the other 8 patients relapsed within 2 weeks. The treatment of the patients was extended to 4 weeks and other etiological factors were re-evaluated. One of the patients was diagnosed with cystic fibrosis, the other was diagnosed with foreign body aspiration when the history was deepened, and pulmonary tuberculosis in 2 patients. IgA level of two patients was <0.1 mg/dl.
Conclusion: Many different underlying diseases can cause chronic productive cough in childhood. When inappropriate drug treatments are administered to the patients, irreversible complications such as bronchiectasis may develop. Protracted bacterial bronchitis, which has been described in recent years, is one of the important causes of chronic productive cough. It is very important to evaluate these patients diagnosed with PBB correctly and to follow up the treatment.
References
Anne B Chang 1, Colin F Robertson 2, Peter P Van Asperen 3, Nicholas J Glasgow 4, Craig M Mellis 5, I Brent Masters 6, Laurel Teoh 7, Irene Tjhung 8, Peter S Morris 9, Helen L Petsky 6, Carol Willis 6, Lou I Landau. A multicenter study on chronic cough in children : burden and etiologies based on a standardized management pathway. Chest 2012 Oct;142(4):943-950. doi: 10.1378/chest.11-2725.
Accurso FJ, Sontag MK, Wagener JSJTJop. Complications associated with symptomatic diagnosis in infants with cystic fibrosis. J Pediatr 2005;147(3):S37-S41. DOI: 10.1016/j.jpeds.2005.08.
Behan L, Dimitrov BD, Kuehni CE, et al. PICADAR: a diagnostic predictive tool for primary ciliary dyskinesia. European Respiratory Journal 2016 47: 1103-1112 DOI: 10.1183/13993003.01551-2015
Chang AB, Bush A, Grimwood K. Bronchiectasis in children: diagnosis and treatment. Lancet. 2018 Sep 8;392(10150):866-879. doi: 10.1016/S0140-6736(18)31554-X.
Chang AB, Oppenheimer JJ, Weinberger M, Rubin BK, Irwin RS. Children With Chronic Wet or Productive Cough--Treatment and Investigations: A Systematic Review. Chest. 2016;149(1):120-42. DOI: 10.1378/chest.15-2065
Chang AB, Redding GJ, Everard ML. Chronic wet cough: Protracted bronchitis, chronic suppurative lung disease and bronchiectasis. Pediatr Pulmonol 2008;43(6):519-31. DOI: 10.1002/ppul.20821
Chang AB, Upham JW, Masters JB, et al. Protracted bacterial bronchitis: The last decade and the road ahead. Pediatr Pulmonol. 2016 Mar;51(3):225-42. doi: 10.1002/ppul.23351.
Donnelly D, Critchlow A, Everard MLJT. Outcomes in children treated for persistent bacterial bronchitis. Thorax. 2007;62(1):80-4 DOI: 10.1136/thx.2006.058933
Emiralioglu N, Kiper N, Yalçin E, Ersöz DD, Özçelik U. Flexible bronchoscopy findings in children with protracted bacterial bronchitis. Turkiye Klinikleri J Pediatr, 26(2):39-43 DOI: 10.5336/pediatr.2016-53818
Gedik AH, Cakir E, Torun E, Demir AD, Kucukkoc M, Erenberk U, et al. Evaluation of 563 children with chronic cough accompanied by a new clinical algorithm. Ital J Pediatr. 2015;41:73. doi: 10.1186/s13052-015-0180-0.
Goyal V, Grimwood K, Marchant JM, et al. Does failed chronic wet cough response to antibiotics predict bronchiectasis? Arch Dis Child 2014;99:522–525. doi: 10.1136/archdischild-2013-304793
Kompare M, Weinberger M. Protracted bacterial bronchitis in young children: association with airway malacia. J Pediatr 2012; 160:88–92. DOI: 10.1016/j.jpeds.2011.06.049
Marchant JM, Masters IB, Taylor SM, Cox NC, Seymour GJ, Chang AB. Evaluation and outcome of young children with chronic cough. Chest 2006;129:1132–1141.doi: 10.1378/chest.129.5.1132
Narang R, Bakewell K, Peach J, Clayton S, Samuels M, Alexander J, et al. Bacterial distribution in the lungs of children with protracted bacterial bronchitis. PLoS One 2014;9(9):e108523. doi: 10.1371/journal.pone.0108523.
Shields M D, Bush A, Everard M L, et al. Recommendations for the assessment and management of cough in children. Thorax. 2008;63 (Suppl III): ii1–iii15. DOI: 10.1136/thx.2007.077370
Shields MD, Doherty GM. Chronic cough in children. Paediatric Respiratory Reviews. 2013;14(2):100-6. DOI: 10.1016/j.prrv.2012.05.002
Philip M Farrell, Terry B White, Clement L Ren, Sarah E Hempstead, Frank Accurso, Nico Derichs, Michelle Howenstine, Susanna A McColley, Michael Rock, Margaret Rosenfeld, Isabelle Sermet-Gaudelus, Kevin W Southern, Bruce C Marshall, Patrick R Sosnay. Diagnosis of Cystic Fibrosis:Consensus Guidelines from the Cystic Fibrosis Foundation. J Pediatr. 2017 Feb;181S:S4-S15.e1. doi: 10.1016/j.jpeds.2016.09.064.
Tom J C Ruffles, Julie M Marchant, Ian B Masters, Stephanie T Yerkovich, Danielle F Wurzel, Peter G Gibson, Greta Busch, Katherine J Baines, Jodie L Simpson, Heidi C Smith-Vaughan, Susan J Pizzutto, Helen M Buntain, Gregory Hodge, Sandra Hodge, John W Upham, Anne B Chang. Outcomes of protracted bacterial bronchitis in children: A 5-year prospective cohort study. Respirology. 2021 Mar;26(3):241-248. doi: 10.1111/resp.13950.
Wurzel DF, Marchant JM, Yerkovich ST, Upham JW, Petsky HL, Smith-Vaughan H, et al. Protracted Bacterial Bronchitis in Children: Natural History and Risk Factors for Bronchiectasis. Chest 2016;150(5):1101-8. DOI: 10.1016/j.chest.2016.06.030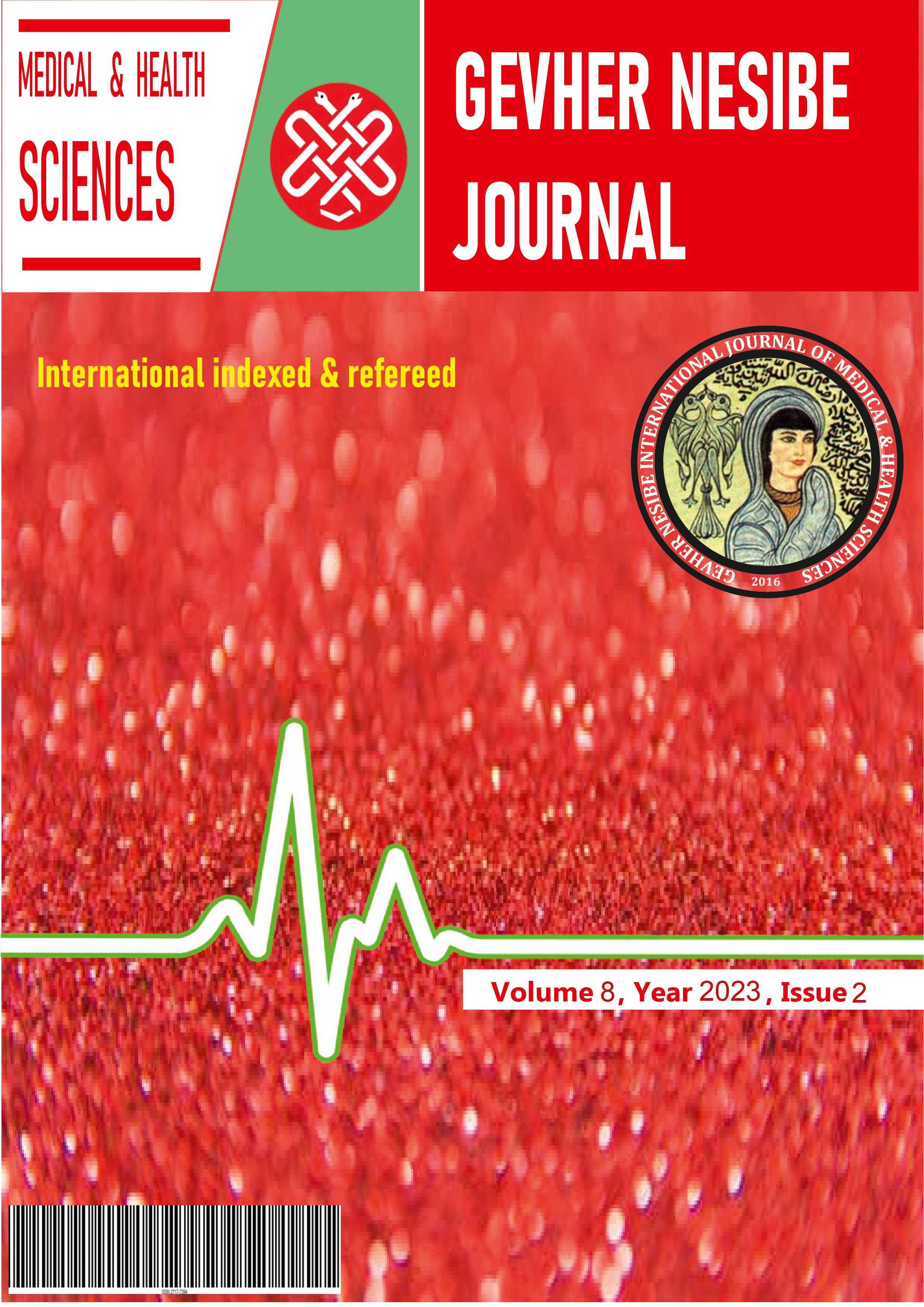 Downloads
How to Cite
USTA GUC, B., & KILIÇ, M. (2023). The Important Concept in Children with Chronic Cough: Protracted Bacterial Bronchitis. GEVHER NESIBE JOURNAL OF MEDICAL AND HEALTH SCIENCES, 8(2), 254–259. https://doi.org/10.5281/zenodo.7759770
License
Copyright (c) 2023 GEVHER NESIBE JOURNAL OF MEDICAL AND HEALTH SCIENCES
This work is licensed under a Creative Commons Attribution-NonCommercial 4.0 International License.