Investigation of Health-Related Behaviours and Levels Self-Care Power Characteristics of Puerperants in the Postpartum Period

Abstract views: 324 /

PDF downloads: 186
Keywords:
Health behavior, Postpartum period, Puerperants, Self-care power
Abstract
Objective: The purpose of this study was to measure the puerperants' level of knowledge, health behaviours, and self-care power.
Methods:  The study was done analytically and cross-sectionally with 600 women between January and April 2012. The study's data were gathered using a questionnaire that questioned the women's descriptive and independent characteristics, as well as a Self-Care Scale.
Results: 38.5% of the puerperants were between the ages of 19 and 24; 91% were housewives; 94.2% health insurance; 73.2% were from nuclear households; 71.7% had 1-3 pregnancies; and 33.5% had two births. 69.5% of puerperants had no health difficulties, 77.5% attended to check-ups, and 53.5% had a caesarean section. Among the respondents, 43.8% said they nursed their kids within half an hour, 18.5% said they experienced breastfeeding issues, 46.9% said they would breastfeed as much as they could, and 16% said they employed methods to increase breast milk. After giving birth, 21.8% stated they would attend for a follow-up appointment, 65.3% said they would have sexual intercourse within 40 days, and 60.5% expressed they would begin contraception within 40 days. After birth, 55.7% said that their social life had been impacted, 23.3% reported dread, anxiety, and concern, 67.7% reported decreased sleep duration, and 89.7% did not exercise. The mean self-care power score of the puerperants was 98.96 ± 37.22.
Conclusion: The puerperants determined that the self-care power scores of the were at a moderate level. In addition, it was determined that puerperant women had deficiencies in health behavior and lack of knowledge.
References
Ahi, S., Borlu, A., Balcı, E., Günay, O. (2019). Bebek dostu bir hastanede doğum yapan annelerin doğumdan sonra ilk bir saatte emzirmeye başlama durumları ve ilişkili faktörler. Ahi Evran Medical Journal, 3(2), 41-47.
Aktaş, N., Karaçam, Z. (2017). Doğum Sonrası Yorgunluk Kadının Öz Bakım Gücü Ve İlişkili Faktörler. Tepecik Eğitim ve Araştırma Hastahanesi Dergisi, 27(3), 186-196.
Altuntuğ, K., & Acar, A. (2011). Doğum sonu dönemde primipar anne ve ebe/hemşirelerin eğitim önceliklerinin karşılaştırılması. Merhaba, 124.
Balkaya, N. A., Vural, G., & Eroğlu, K. (2014). Gebelikte belirlenen risk faktörlerinin anne ve bebek sağlığı açısından ortaya çıkardığı sorunlar. Düzce Üniversitesi Sağlık Bilimleri Enstitüsü Dergisi, 1(1), 6-16.
Berbiglia, V. A., & Banfield, B. (2013). Self-care deficit theory of nursing. Nursing Theorists and Their Work-E-Book, 30(1), 240.
Bıçakçı, H. (2010). Doğum Sonrası Annelerin Öz-Bakım Gücünün Hastane Taburculuğuna Hazır Oluşluklarına Etkisi. Selçuk Üniversitesi Sağlık Bilimleri Enstitüsü. Tezi. Hemşirelik Ana bilim dalı. Yüksek Lisans tezi. (Tez Danışmanı: Doç. Dr. Emel Ege)
Bick, D., Duff, E., & Shakespeare, J. (2020). Better Births-But why not better postnatal care?. Midwifery, 80, 102574.
Bostancı G, İnal S. Bebek Dostu Özel Bir Hastanede doğum yapan annelerin emzirmeye ilişkin bilgi düzeylerinin ve bebeklerini emzirme durumlarının değerlendirilmesi. HSP. 2015; 2(3):260-270.
Büyükkayacı Duman, N., Karataş, N. (2011). Sezaryen sonrası erken taburcu olan kadınlara verilen evde bakım hizmetinin anne sağlığına ve öz bakım gücüne etkisi. Sağlık Bilimleri Dergisi, 20(1), 54-67.
Damanik R. (2009).Torbangun (Coleusamboinicus Lour): A Bataknese traditional cuisine perceived as lactagogue by Bataknese lactating women in Simalungun, North Sumatera, Indonesia. The journal of human lactation, 25(1),64-72
Darvill, R., Skirton, H., & Farrand, P. (2010). Psychological factors that impact on women's experiences of first-time motherhood: a qualitative study of the transition. Midwifery, 26(3), 357-366.
Doğaner, G. (2006). Vajinal yolla doğum yapan kadınların erken postpartum dönemde kendisinin ve yenidoğanın bakımına yönelik yaşadıkları sorunların belirlenmesi (Master's thesis, Sağlık Bilimleri Enstitüsü).
Duman, N. B., Karataş, N. (2011). Sezaryen Sonrası Erken Taburcu Olan Kadınlara Verilen Evde Bakım Hizmetinin Anne Sağlığına Ve Öz Bakım Gücüne Etkisi. Sağlık Bilimleri Dergisi, 20(1), 54-67.
Erenel Şentürk A, Eroğlu K. Doğum sonrası ilk altı ayda ev ziyareti yoluyla desteklenen emzirme eğitimi modelinin etkili emzirme davranışı üzerine etkisi. Hacettepe Üniversitesi Hemşirelik Yüksekokulu Dergisi 2005;12(2):43-54.
Ergin, A., Hatipoğlu, C., Bozkurt, A. İ., BostancI, M., Atak, B. M., Kısaoğlu, S., ... & Karasu, E. (2011). Tıp fakültesi öğrencilerinin yaşam doyumu ve öz-bakım gücü düzeyleri ve etkileyen faktörler. Pamukkale Tıp Dergisi, (3), 144-151.
Erkaya, R., Gürsoy, A. A., Güler, H. (2012). Annelerin anne sütünü artırmaya yönelik aldıkları besinler. Gümüşhane Üniversitesi Sağlık Bilimleri Dergisi, 4(3), 373-387.
Goodman, J. H. (2004). Postpartum depression beyond the early postpartum period. Journal of Obstetric, Gynecologic, & Neonatal Nursing, 33(4), 410-420.
Goyal, D., Gay, C., & Lee, K. A. (2010). How much does low socioeconomic status increase the risk of prenatal and postpartum depressive symptoms in first-time mothers?. Women's Health Issues, 20(2), 96-104.
Hacettepe Üniversitesi Nüfus Etütleri Enstitüsü. (2019). 2018 Türkiye Nüfus ve Sağlık Araştırması. Hacettepe Üniversitesi Nüfus Etütleri Enstitüsü, T.C. Cumhurbaşkanlığı Strateji ve Bütçe Başkanlığı ve TÜBİTAK, Ankara, Türkiye. Avaible at:https://hips.hacettepe.edu.tr/tr/2018_turkiye_nufus_ve_saglik_arastirmasi-55. Erişim tarihi:22.10.2022
https://www.openepi.com/SampleSize/SSPropor.htm (2022)
Kadıoğlu, BG., Tanrıverdi, EÇ,göktürk, B. (2019). Doğuma hazırlık eğitiminin lohusaların duygu durumuna etkisi. Anadolu Hemşirelik ve Sağlık Bilimleri Dergisi, 22(3), 189-195.
Karaçam, Z., Sağlık, M. (2018). Emzirme sorunları ve sorunlara ilişkin yapılan girişimler: Türkiye'de yapılan çalışmalara dayalı bir sistematik derleme. Turkish Archives of Pediatrics, 53(3).
Kassebaum, N. J., Bertozzi-Villa, A., Coggeshall, M. S., Shackelford, K. A., Steiner, C., Heuton, K. R., ... & Kazi, D. S. (2014). Global, regional, and national levels and causes of maternal mortality during 1990–2013: a systematic analysis for the Global Burden of Disease Study 2013. The Lancet, 384(9947), 980-1004.
Kayıran D. (2018). Galaktogoglar. Klinik tıp pediatri dergisi, 10 (6), 28-31
Koç G. Doğum Sonu Erken Dönemde Taburcu Edilen Anneler İçin Geliştirilen Evde Bakım Hizmet Modelinin Etkinliğinin İncelenmesi, Hacettepe Üniversitesi, Doğum-Kadın Hastalıkları Hemşireliği Programı, Doktora Tezi , Ankara, 2005.
Kutlubay, R., Arıöz, A. Postpartum Depresyonda Evlilik Uyumu ve Eş Desteğinin Önemi. Türkiye Sağlık Bilimleri ve Araştırmaları Dergisi, 4(3), 1-10.
Lambermon, F., Vandenbussche, F., Dedding, C., & van Duijnhoven, N. (2020). Maternal self-care in the early postpartum period: An integrative review. Midwifery, 90, 102799.
Nahçivan N. (1993). Sağlıklı Gençlerde Öz-Bakım Ve Aile Ortamının Etkisi, İstanbul üniversitesi Sağlık Bilimleri Enstitüsü Hemşirelik Ana Bilim Dalı, İstanbul.( Yayınlanmış Doktora Tezi)
Nazik, E. (2009). Öz-bakım modeli kullanılarak verilen bakımın postpartum komplikasyonların önlenmesi ve giderilmesine etkisi. Atatürk University Institute of Women, Erzurum, Turkey (in Turkish).
Sacks, E., & Langlois, É. V. (2016). Postnatal care: increasing coverage, equity, and quality. The Lancet Global Health, 4(7), e442-e443.
Schmied, V., & Bick, D. (2014). Postnatal care–Current issues and future challenges. Midwifery, 30(6), 571-574.
World Health Organization, UNICEF. Capture The MomentEarly initation of breastfeeding: The best start of every newborn. Newyork; 2018:7-8
Yalçın H. (2012). Gebelik, doğum, lohusalık ve bebek bakımına ilişkin geleneksel uygulamalar (Karaman örneği). Çocuk sağlığı ve hastalıkları dergisi, 55(1), 19-31
Yaman, S., Balcı, E. (2019). Anne sütünü artıran geleneksel uygulamalar. Sağlık Akademisyenleri Dergisi, 6(4), 230-236.
Zaybak, A., & Fadiloglu, Ç. (2004). Üniversite Ögrencilerinin Sagligi Gelistirme Davranisi ve Bu Davranisi Etkileyen Etmenlerin Belirlenmesi. Ege Üniversitesi Hemşirelik Fakültesi Dergisi, 20(1), 77-95.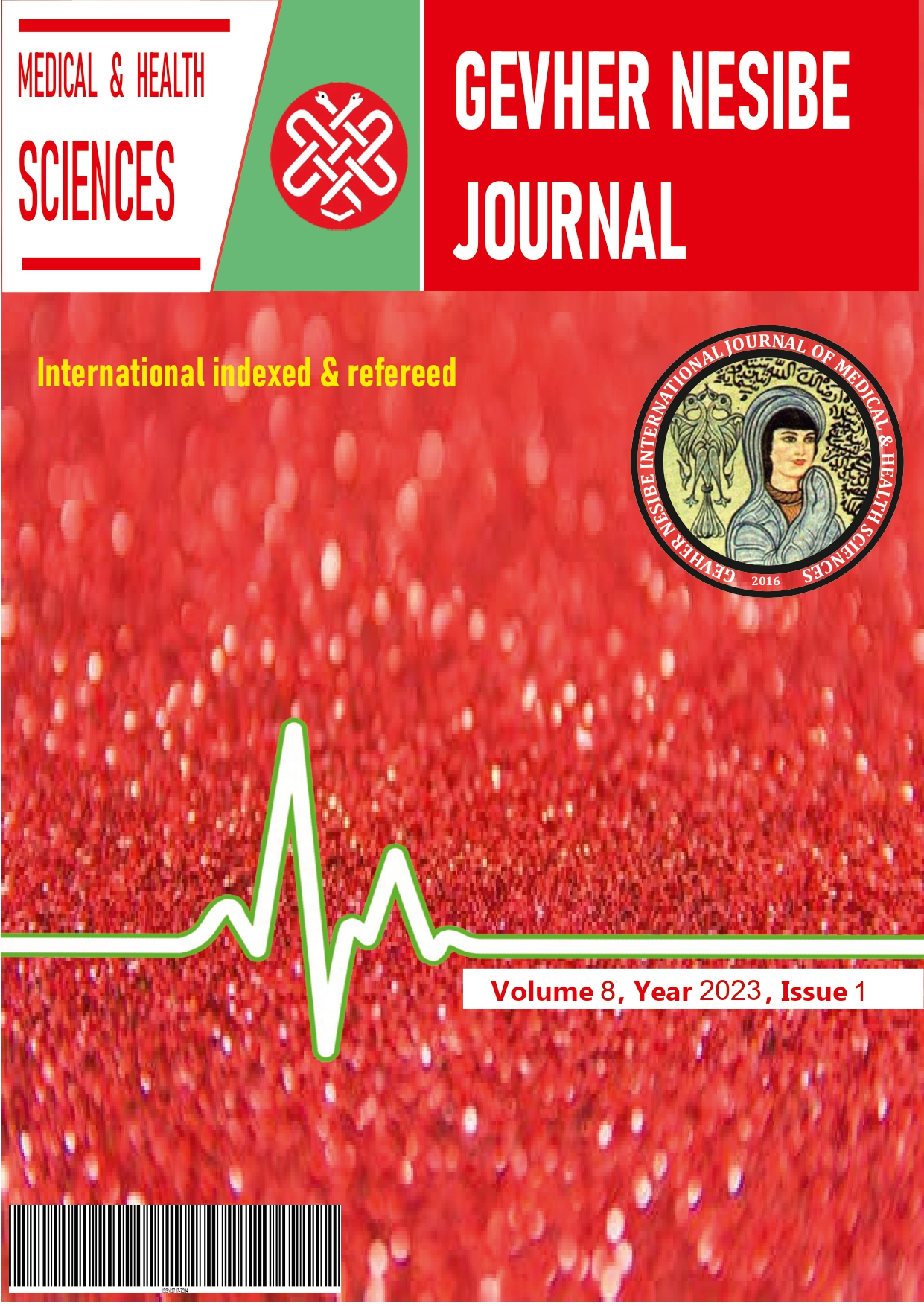 Downloads
How to Cite
ÖZTAŞ, H. G., & SOHBET, R. (2023). Investigation of Health-Related Behaviours and Levels Self-Care Power Characteristics of Puerperants in the Postpartum Period. GEVHER NESIBE JOURNAL OF MEDICAL AND HEALTH SCIENCES, 8(1), 97–105. https://doi.org/10.5281/zenodo.7604015
License
Copyright (c) 2023 GEVHER NESIBE JOURNAL OF MEDICAL AND HEALTH SCIENCES
This work is licensed under a Creative Commons Attribution-NonCommercial 4.0 International License.