The Effect of Anxiety of Catching the Novel Coronavirus on Nutritional Status and Diet Quality in Athletes in Different Sports Branches

Abstract views: 49 /

PDF downloads: 29
Keywords:
Covid-19, anxiety, dietquality, nutrition, teamsports
Abstract
This study was guided to determine the relationship between the nutritional status and diet quality of the anxiety of catching Covid-19 in different sport branches. 92 athletes, including 31 football players, 32 rowers and 29 handball players, participated in the study. In order to determine the anxiety levels of the athletes Athlete's Anxiety to Catch the Novel Coronavirus Scale was applied. In order to measure the nutritional status of the athletes, 24-hour food consumption records were taken on a trained day and evaluated. The Healthy Eating Index-2015 was used to evaluate the diet quality of the athletes. The score of the rowing group was found to be significantly higher than the Football and Handball groups. The score of the Handball group was also found to be significantly higher than the Football group. There is a significant relationship between the Covid-19 Anxiety Scale scores of the football players and the seafood and vegetable protein scores. (r: 0.451, p=0.011,p<0.05). A important results were found in the same direction between the Covid-19 Anxiety Scale score of the rowers and the amount of protein consumption (%), total vegetable consumption, dark green leafy vegetables and legumes consumption, and total protein food consumption score (r:0.524, r=0.002, p<0.01; r:0.407, p=0.021, p<0.05; r:0.523, p=0.002, p<0.01; r: 0.533, p=0.002, p<0.01, respectively). A important results were found in the opposite direction between the Covid-19 Anxiety Scale score and the consumed total fruit and whole grain consumption score (r: -0.374, p= 0.035 p<0.05, r:-0,442, p:0.016; p<0.05, respectively). More research is required to clarify the relation between athletes' anxiety levels, nutritional status, and quality of diet.
References
Ağduman F. Sporcuların pandemi döneminde covid-19'a yakalanma kaygı düzeylerinin incelenmesi. GERMENİCA Beden Eğitimi ve Spor Bilimleri Dergisi. 2021; 2(1): 1-14
Ayhan A., Müftüoğlu S., Köse B. Evaluation of the relationship between nutritional status, nutritional knowledge, caffeine consumption and body composition of professional soccer and volleyball players. Spor Bilimleri Dergisi Hacettepe Journal of Sport Sciences. 2021; 32(3): 123-134. DOI: https://doi.org/10.17644/sbd.876856
Braakhuis AJ, Hopkins WG, Lowe TE. Effect of dietary antioxidants, training, and performance correlates on antioxidant status in competitive rowers. Int. J. Sports Physiol. Perform. 2013; 8:565Y72.
Demir, GT., Cicioğlu, Hİ., & İlhan, EL. Athlete's Anxiety to Catch the Novel Coronavirus (COVID-19) Scale (AACNCS): Validity and reliability study. Journal of Human Sciences. 2020; 17(2): 458-468.
Dietz W, Santos-Burgoa C. Obesity and its implications for COVID-19 mortality. Obesity (Silver Spring). 2020;28(6):1005. doi:10.1002/ oby.22818
Doğan, E. Bireysel ve takım sporcularının yeni tip korona virüse (covid-19) yakalanma kaygısının incelenmesi. Kesit Akademi Dergisi. 2021; 7 (28): 375-387.
Håkansson, A., Jönsson, C. ve Kenttä, G. Psychological distress and problem gambling in elite athletes during covıd-19 restrictions - a web survey in top leagues of three sports during the epidemic. İnternational Journal of Environmental Research and Public Health. 2020; 17 (18): 6693.
Holway FE, Spriet LL. Sport-specific nutrition: Practical strategies for team sports. J Sports Sci. 2011; 29(SUPPL. 1):115–25.
Jeukendrup Asker and Gleeson Mıcheal. Sports Nutrition Third Edition,2018.
Keck MM, Vivier H, Cassisi E, Dvorak RD, Dunn ME, Neer SM, et al. Examining the Role of Anxiety and Depression in Dietary Choices among College Students. Nutrients. 2020;12(7):1–19.
Malınauskas B., Overton R., Cucchıara A., Carpenter A., Corbett A. Summer league college baseball players: Do dietary intake and barriers to healty eating differ between game and non-game days?. The Smart Journal. 2007;3(2):23-30
Özdin, S., & Bayrak Özdin, Ş. (2020). Levels and predictors of anxiety, depression and health anxiety during COVID-19 pandemic in Turkish society: The importance of gender. International Journal of Social Psychiatry, 0020764020927051.
Padovani C, Juzwiak CR. Assessment of the diet quality of team sports athletes. Rev Bras Cineantropometria Desempenho Hum. 2015;17(3):280–90.
Potgieter S. Sport nutrition: A review of the latest guidelines for exercise and sport nutrition from the American College of Sport Nutrition, the International Olympic Committee and the International Society for Sports Nutrition. South African J Clin Nutr. 2013;26(1):6–16.
Sağlık Bakanlığı. COVİD 19 (SARS-Cov-2 Enfeksiyonu) Genel Bilgiler, Epidemioloji ve Tanı. T.C. Sağlık Bakanlığı Halk Sağlığı Genel Müdürlüğü, Bilimsel Danışma Kurulu Çalışması. 2020.
Santos DA, Matias CN, Monteiro CP, Silva AM, Rocha PM, Minderico CS, Bettencourt Sardinha L, Laires MJ. Magnesium intake is associated with strength performance in elite basketball, handball and volleyball players. Magnes Res 2011; 24(4): 215-9 doi:10.1684/mrh.2011.0290
Tekkurşun, D.G., Cicioğlu, H., & İlhan, E. (2020). Sporcuların yeni tip koronavirüse (Covid-19) yakalanma kaygısı ölçeği (SYTKYKÖ): Geçerlik ve güvenirlik çalışması. Journal of Human Sciences, 17(2).
Vardar E, Arzu S, Kurt C. Anxiety of young female athletes with disordered eating behaviors. Eat Behav. 2007; 8:143–7.
Webber K, Ireland A, Forsythe H, Kurzynske J, Vaught JA, Adams B. Diet Quality of Collegiate Athletesle. Coll Stud J. 2015;49(2):251-256(6).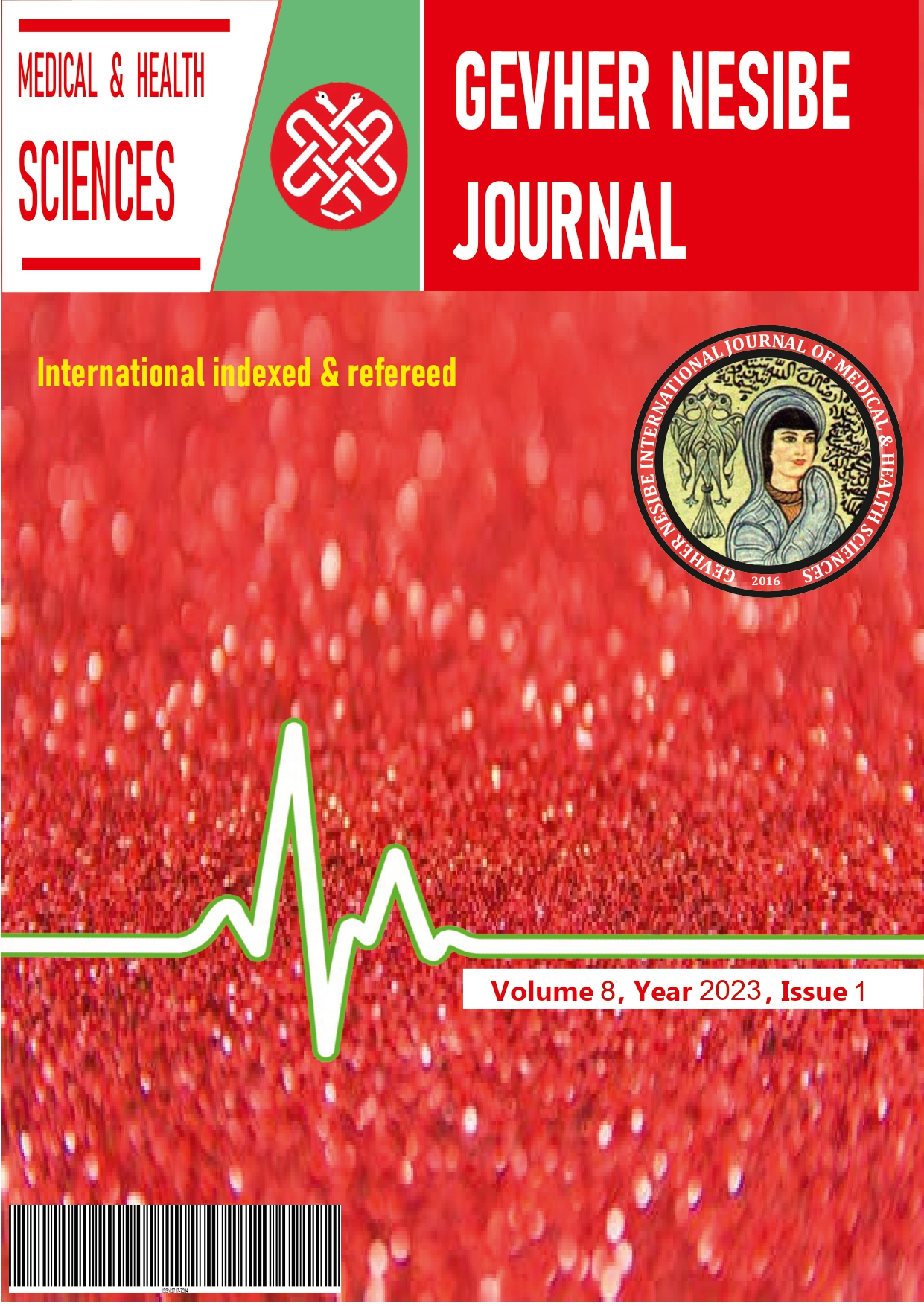 Downloads
How to Cite
TOSLAK, B., & SAĞLAM, D. (2023). The Effect of Anxiety of Catching the Novel Coronavirus on Nutritional Status and Diet Quality in Athletes in Different Sports Branches. GEVHER NESIBE JOURNAL OF MEDICAL AND HEALTH SCIENCES, 8(1), 25–32. https://doi.org/10.5281/zenodo.7600617
License
Copyright (c) 2023 GEVHER NESIBE JOURNAL OF MEDICAL AND HEALTH SCIENCES
This work is licensed under a Creative Commons Attribution-NonCommercial 4.0 International License.