Sexual Counseling Models

Abstract views: 553 /

PDF downloads: 603
Keywords:
Sexuality, Sexual Counseling, Sexual Counseling Models
Abstract
Sexuality is a concept that starts in the prenatal period and continues for life and is affected by many factors. Evaluation of sexuality, sexual education and counseling is an important part of women's health. Sexual counseling provides interaction with the patient to obtain information about sexual concerns and a safe return to normal sexual activity. Many models can be taken as a basis when providing sexual counseling services. Sexuality is an area that is difficult to talk about, so the use of models are effective ALARM, PLISSIT, BETTER, ALLOW, IMB, sexual health education and counseling. Nurses need to think multidimensionally about sexuality and many factors affecting sexuality so that they can provide an effective counseling service on sexual issues and make sexual evaluations. While nurses provide counseling services on sexual issues that are difficult to express, their use of sexual counseling models facilitates this process. In this article are included sexual counseling and its models. It is thought that the article will help to look at sexual counseling and the models that can be used while providing this service from a wider range.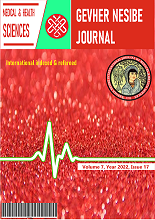 Downloads
How to Cite
Akcan, K., & Turhan, İpek. (2022). Sexual Counseling Models. GEVHER NESIBE JOURNAL OF MEDICAL AND HEALTH SCIENCES, 7(17), 50–56. https://doi.org/10.46648/gnj.382
License
This work is licensed under a Creative Commons Attribution-NonCommercial 4.0 International License.