EXAMINATION OF THE PATIENT DIAGNOSED WITH COVID-19 ACCORDING TO JOYCE TRAVELBEE'S HUMAN-TO-HUMAN RELATIONSHIP MODEL: CASE REPORT

Abstract views: 454 /

PDF downloads: 384
Keywords:
Joyce Travelbee, human-to-human relationship model, Covid 19, nursing
Abstract
Nurses are key in helping healthy/sick individuals, families and communities to protect health, upgrade , prevent disease, regain health and facilitate Disease Control. Because the need for nursing is universal and nurses while helping to meet this need, a team their responsibilities of practitioner,researcher,educator,administrator, and thanks to the professional roles and functions to fulfill. In order for these applications to be carried out with a systematic and scientific approach by separating them from the medical model, it is necessary to base them on nursing models, so the nursing process must be used together with the nursing model. Models draw a framework for systematizing nursing knowledge and activities, develop systematic thinking, and bring a common meaning to concepts. In this article, Joyce Travelbee's human-to-human relationship model was used in the nursing care of a patient diagnosed with covid 19. Travelbee emphasized the importance of using the nurse's knowledge and skill as a therapeutic in her model. In the case presented, it was observed that the model contributes to the healing process and it was emphasized that it can be used in the field of application.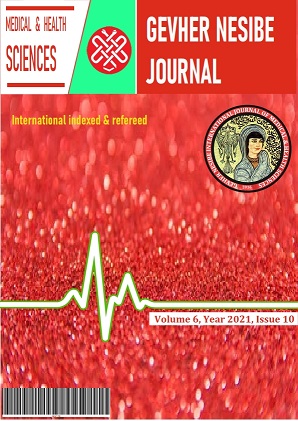 Downloads
How to Cite
KARAKUT, Şerivan, & KABALCIOĞLU BUCAK, F. (2022). EXAMINATION OF THE PATIENT DIAGNOSED WITH COVID-19 ACCORDING TO JOYCE TRAVELBEE'S HUMAN-TO-HUMAN RELATIONSHIP MODEL: CASE REPORT. GEVHER NESIBE JOURNAL OF MEDICAL AND HEALTH SCIENCES, 6(10), 54–62. https://doi.org/10.46648/gnj.176
License
This work is licensed under a Creative Commons Attribution-NonCommercial 4.0 International License.