The Relationship of Dietary Nutrients with Depression, Anxiety and Stress: A Sample of Nutrition and Dietetics Students

Abstract views: 90 /

PDF downloads: 64
Keywords:
Depression, Anxiety, Nutrients, Mood Disorders, Nutritional Status
Abstract
Aim: The aim of this study is to examine the relationship between dietary nutrients intake according to Dietary Reference Intakes (DRI) recommendations and depression, anxiety and stress levels of nutrition and dietetics students.
Method: The cross-sectional descriptive study was conducted at Uskudar University in the 2019-2020 academic year, voluntarily, questioning demographic characteristics, "Depression, Anxiety and Stress Scale (DASS-42)" and "3-Day Food Consumption Record Form" were applied face-to-face interview method. IBM SPSS v26® software was used in the analysis of the data.
Results: A total of 251 undergraduate students, whose 94.4% was female participated in the study. The mean age of the participants was 20.63±1.51 years, and the mean Body Mass Index (BMI) was 21.36±3.11 kg/m2. Anxiety levels of students whose daily vitamin B-2 intake were below the DRI and depression levels of students whose daily vitamin C intake were above the DRI were statistically significantly higher (p<0.05). Depression, anxiety and stress levels of students whose daily dietary carbohydrate intake, vitamin B-1, biotin, folic acid and phosphorus, iodine, selenium were above the DRI and whose daily dietary protein intake, percentage of total energy from fat, daily dietary omega-3, vitamins A, E, K, B-5 and calcium, zinc, manganese intakes were below the DRI were higher, but they were not statistically significant. (p>0.05).
Conclusions: The deficiency or excess of some nutrients according to DRI was correlated with some mood disorders.
References
Abargouei AS, Esmaillzadeh A, Azadbakht L, Keshteli AH, Afshar H, Feizi A, et al. Do patterns of nutrient intake predict self-reported anxiety, depression and psychological distress in adults? sepahan study. Clin. Nutr. 2019;38(2):940-7. https://doi.org/10.1016/j.clnu.2018.02.002
Akın A, Çetin B. The depression anxiety and stress scale (dass): the study of validity and reliability. Educ. Pract. Theory. 2007;7(1):241-68.
Altıner A, Atalay H, Bilal T. Vitamin E as an antioxidant. BAUN Health Sci J. 2017;6(3):149-57. doi: 10.5505/bsbd.2017.47450
Bahrami A, Khorasanchi Z, Sadeghnia HR, Tayefi M, Avan A, Ferns GA, et al. Depression in adolescent girls: relationship to serum vitamins a and e, t immune response to heat shock protein and systemic inflammation. J Affect Disord. 2019;252:68-73. https://doi.org/10.1016/j.jad.2019.04.048
Baysal A, Aksoy M, Besler T, Bozkurt N, Keçecioğlu S, Mercanlıgil, S, Merdol TK, Pekcan G, Yıldız E. Diet handbook. Ankara: Hatipoglu; 2020.
Bebispro for Windows, Stuttgart, Germany; Turkish Version (BeBiS 8.2), Bundeslebensmittelschluessel; German Food Code and Nutrient Data Base; Version 3.01B Pasifik Elektirik Elektronik Ltd. Şti. (www.bebis.com.tr); Istanbul, 2019. Databases: http://www.bfr.bund.de/cd/801.
Bertone-Johnson ER, Powers SI, Spangler L, Larson J, Michael YL, Millen AE, et al. Vitamin D Supplementation and Depression in the Women's Health Initiative Calciumand Vitamin D Trial. Am. J. Epidemiol. 2011;176(1):1-13. https://doi.org/10.1093/aje/kwr482
Bolzetta F, Veronese N, Stubbs B, Noale M, Vaona A, Demurtas J, et al. The relationship between dietary vitamin k and depressive symptoms in late adulthood: a cross-sectional analysis from a large cohort study. Nutrients. 2019;11(4):787. https://doi.org/10.3390/nu11040787
Bozzatello P, Rocca P, Mantelli E, Bellino S. Polyunsaturated fatty acids: what is their role in treatment of psychiatric disorders? Int. J. Mol. Sci. 2019;20(21):5257. https://doi.org/10.3390/ijms20215257
Brinkworth GD, Buckley JD, Noakes M, Clifton PM, Wilson CJ. Long-term effects of a very low-carbohydrate diet and a low-fat diet on mood and cognitive function. Arch Intern Med. 2009;169(20):1873–80. doi: 10.1001/archinternmed.2009.329
Carding S, Verbeke K, Vipond DT, Corfe BM, Owen LJ. Dysbiosis of the gut microbiota in disease. Microb. Ecol. Health Dis. 2015;26(1):26191. https://doi.org/10.3402/mehd.v26.26191
Chianese R, Coccurello R, Viggiano A, Scafuro M, Fiore M, Coppola G, et al. Impact of dietary fats on brain functions. Curr Neuropharmacol. 2018;16(7):1059–85. https://doi.org/10.2174/1570159X15666171017102547
Colangelo LA, He K, Whooley MA, Daviglus ML, Morris S, Liu K. Selenium exposure and depressive symptoms: the coronary artery risk development in young adults trace element study. Neurotoxicology. 2014;41:167–74. https://doi.org/10.1016/j.neuro.2014.02.003
Daley C, Patterson A, Sibbritt D, MacDonald-Wicks L. Unsaturated fat intakes and mental health outcomes in young women from the australian longitudinal study on women's heath. Public Health Nutr. 2015;18(3):546–53. doi:10.1017/S1368980014000561
Daneshzad E, Keshavarz SA, Qorbani M, Larijani B, Azadbakht L. Association between a low-carbohydrate diet and sleep status, depression, anxiety, and stress score. J. Sci. Food Agric. 2020;100(7):2946-52. https://doi.org/10.1002/jsfa.10322
Debelo H, Novotny JA, Ferruzzi MG. Vitamin A. Adv Nutr. 2017;8(6):992-4. https://doi.org/10.3945/an.116.014720
Dhir S, Tarasenko M, Napoli E, Giulivi C. Neurological, psychiatric, and biochemical aspects of thiamine deficiency in children and adults. Front. Psychiatry. 2019;10(207): 1-15. https://doi.org/10.3389/fpsyt.2019.00207
Ebrahimpour-Koujan S, Keshteli AH, Afshar H, Esmaillzadeh A, Adibi P. Adherence to low carbohydrate diet and prevalence of psychological disorders in adults. Nutr J. 2019;18(1):87. https://doi.org/10.1186/s12937-019-0513-8
Elkin ÖO. Comparison of anxiety, stress, life satisfaction levels and related variables between male and female university students. Istanbul Gelisim University, Master Thesis, Istanbul, 2020.
Fatemi F, Siassi F, Qorbani M, Sotoudeh G. Higher dietary fat quality is associated with lower anxiety score in women: a cross-sectional study. Ann Gen Psychiatry. 2020;19(14):1-9. https://doi.org/10.1186/s12991-020-00264-9
Ferland G. Vitamin K and the nervous system: an overview of its actions. Adv Nutr. 2012;03(2):204–12. https://doi.org/10.3945/an.111.001784
Galletly C, Moran L, Noakes M, Clifton P, Tomlinson L, Norman R. Psychological benefits of a high-protein, low-carbohydrate diet in obese women with polycystic ovary syndrome: a pilot study. Appetite 2007;49(3):590-3. https://doi.org/10.1016/j.appet.2007.03.222
Gariballa S. Poor Vitamin C status is associated with increased depression symptoms following acute illness in older people. Int. J. Vitam. Nutr. Res. 2014;84:12-17. https://doi.org/10.1024/0300-9831/a000188
Grützner TM, Listunova L, Fabian GA, Kramer BA, Flach D, Weisbrod M. Serum calcium levels and neuropsychological performance in depression and matched healthy controls: reversal of correlation a marker of the aging cognitive clock? Psychoneuroendocrinology. 2018;91:198-205. https://doi.org/10.1016/j.psyneuen.2018.03.012
Gümüş AB, Yardımcı H, Keser A. Evaluation of nutritional situations according to anxiety score of students prepared for exam. J Duzce Univ Health Sci Inst. 2018;8:22-8.
Holford P. Depression: The nutrition connection. Primary Care Mental Health. 2003;1:9-16.
Hub P, Dam van Dam AM, Wang Y, Lucassen PJ, Zhou JN. Retinoic acid and depressive disorders: evidence and possible neurobiological mechanisms. Neurosci Biobehav Rev. 2020;112:376-391. https://doi.org/10.1016/j.neubiorev.2020.02.013
Jamilian H, Bagherzadeh K, Nazeri Z, Hassanijirdehi M. Vitamin d, parathyroid hormone, serum calcium and phosphorus in patients with schizophrenia and major depression. Int. J. Psychiatry Clin. Pract. 2013;17(1):30-34. https://doi.org/10.3109/13651501.2012.667111
Kennedy DO. B Vitamins and the brain: mechanisms, dose and efficacy-a review. Nutrients. 2016;8(2):68. https://doi.org/10.3390/nu8020068
Kim Y, Kim MC, Park HS, Cho IH, Paik JK. Association of the anxiety/depression with nutrition intake in stroke patients. Clin. Nutr. Res. 2018;7(1):11-20. https://doi.org/10.7762/cnr.2018.7.1.11
Kivimäki M, Shipley MJ, Batty GD, Hamer M, Akbaraly TN, Kumari M, et al. Long-term inflammation increases risk of common mental disorder: a cohort study. Mol Psychiatry. 2014;19(2):149–150. https://doi.org/10.1038/mp.2013.35
Knüppel A, Shipley MJ, Llewellyn CH, Brunner EJ. Sugar intake from sweet food and beverages, common mental disorder and depression: prospective findings from the whitehall ii study. Sci Rep. 2017;7(1):6287. https://doi.org/10.1038/s41598-017-05649-7
Kocot J, Luchowska-Kocot D, Kiełczykowska M, Musik I, Kurzepa J. Does vitamin c influence neurodegenerative diseases and psychiatric disorders? Nutrients. 2017;9(7):1-29. https://doi.org/10.3390/nu9070659
Lai JS, Hiles S, Bisquera A, Hure AJ, McEvoy M, Attia J. A systematic review and meta-analysis of dietary patterns and depression in community-dwelling adults. Am J Clin Nutr. 2013;99(1):181-97. https://doi.org/10.3945/ajcn.113.069880
Lang UE, Beglinger C, Schweinfurth N, Walter M, Borgwardt S. Nutritional aspects of depression. Cell. Physiol. Biochem. 2015;37(3):1029-43. https://doi.org/10.1159/000430229
Larrieu T, Layé S. Food for Mood: Relevance of nutritional omega-3 fatty acids for depression and anxiety. Front. Physiol. 2018:9;1047. doi: 10.3389/fphys.2018.01047
Lemmens SG, Martens EA, Born JM, Martens MJ, Westerterp-PlantengaMS. Lack of effect of high-protein vs. high-carbohydrate meal intake on stress-related mood and eating behavior. Nutr J. 2011;10(136):1-10. https://doi.org/10.1186/1475-2891-10-136
Li Z, Wang W, Xin X, Song X, Zhang D. Association of total zinc, iron, copper and selenium intakes with depression in the us adults. J Affect Disord. 2018;228:68-74. https://doi.org/10.1016/j.jad.2017.12.004
Lin PY, Huang SY, Su KP. A meta-analytic review of polyunsaturated fatty acid compositions in patients with depression. Biol Psychiatry. 2010;68(2):140-7 https://doi.org/10.1016/j.biopsych.2010.03.018
Macht M. How emotions affect eating: a five-way model. Appetite. 2008;50(1):1-11. https://doi.org/10.1016/j.appet.2007.07.002
Marx W, Moseley G, Berk M, Jacka F. Conference on 'diet, nutrition and mental health and wellbeing' plenary lecture: mental health as an emerging public health problem. Proc Nutr Soc. 2017;76:427-36. https://doi.org/10.1017/S0029665117002026
Melanson KJ. Relationships of nutrition with depression and anxiety. Am. J. Lifestyle Med. 2007;1(3):171-4. https://doi.org/10.1177/1559827607299725
Miki T, Kochi T, Eguchi M, Kuwahara K, Tsuruoka H, Kurotani K, et al. Dietary intake of minerals in relation to depressive symptoms in japanese employees: the furukawa nutrition and health study. Nutr. 2015;31(5):686-690. https://doi.org/10.1016/j.nut.2014.11.002
Mikkelsen K, Stojanovska L, Apostolopoulos V. The effects of vitamin b in depression. Curr Med Chem. 2016;23(38):4317-37. doi: 10.2174/0929867323666160920110810
Młyniec K, Davies CL, Pytka K, Sanchez IG, Budziszewska B, Nowak G. Essential elements in depression and anxiety, Part 1. Pharmacol Rep. 2014;66(4):534-44. https://doi.org/10.1016/j.pharep.2014.03.001
Młyniec K, Gaweł M, Doboszewska U, Starowicz G, Pytka K, Davies CL, et al. Essential elements in depression and anxiety, Part II. Pharmacol Rep. 2015;67(2):187-94. https://doi.org/10.1016/j.pharep.2014.09.009
Mrug S, Orihuela C, Mrug M, Sanders PW. Sodium and potassium excretion predict increased depression in urban adolescents. Physiol. Rep. 2019;7(16):1-7. https://doi.org/10.14814/phy2.14213
Narvaes R, Martins de Almeida RM. Aggressive behavior and three neurotransmitters: dopamine, gaba, and serotonin a review of the last 10 years. Psychol Neurosci. 2014;7(4): 601. https://doi.org/10.3922/j.psns.2014.4.20
Nguyen TT, Tsujiguchi H, Kambayashi Y, Hara A, Miyagi S, Yamada Y, et al. Relationship between vitamin intake and depressive symptoms in elderly japanese individuals: differences with gender and body mass index. Nutrients. 2017;9(12):1319. https://doi.org/10.3390/nu9121319
Nutrient recommendations: dietary reference intakes (dri). national institutes of health, office of dietary supplements. Date of Access: 2021/11/20; Avaible from: https://ods.od.nih.gov/Health_Information/Dietary_Reference_Intakes.aspx.
Okereke OI, Cook NR, Albert CM, Denburgh MV, Buring JE, Manson JE. Effect of long-term supplementation with folic acid and b vitamins on risk of depression in older women. Br J Psychiatry. 2015;206(4):324–31. doi:10.1192/bjp.bp.114.148361
Ramin S, Mysz MA, Meyer K, Capistrant B, Lazovich D, Prizment A. A prospective analysis of dietary fiber intake and mental health quality of life in the iowa women's health study. Maturitas. 2020;131:1-7. https://doi.org/10.1016/j.maturitas.2019.10.007
Rao TP, Quartarone G. Role of guar fiber in improving digestive health and function. Nutr. 2019;(59):158-69. https://doi.org/10.1016/j.nut.2018.07.109
Rayman M, Thompson A, Warren-Perry M, Galassini R, Catterick J, Hall E, et al. Impact of selenium on mood and quality of life: a randomized, controlled trial. Biol. Psychiatry 2006;59(2):147–54. https://doi.org/10.1016/j.biopsych.2005.06.019
Rubio-López N, Morales-Suárez-Varela M, Pico Y, Livianos-Aldana L, Llopis-González A. Nutrient intake and depression symptoms in spanish children: the aniva study. Int. J. Environ. Res. Public Health. 2016;13(3):352. https://doi.org/10.3390/ijerph13030352
Sangsefidi, ZS, Salehi-Abarghouei A, Sangsefidi ZS, Mirzaei M, Hosseinzadeh M. The relation between low carbohydrate diet score and psychological disorders among iranian adults. Nutr Metab. 2021;18(1):16. https://doi.org/10.1186/s12986-021-00546-3
Singh K. Nutrient and stress management. J Nutr Food Sci. 2016;6(4):4-6. http://dx.doi.org/10.4172/2155-9600.1000528
Strasser B, Gostner JM, Fuchs D. Mood, food, and cognition: role of tryptophan and serotonin. Curr Opin Clin Nutr Metab Care. 2016;19(1):55-61. doi: 10.1097/MCO.0000000000000237.
Swann OG, Kilpatrick M, Breslin M, Oddy WH. Dietary fiber and its associations with depression and inflammation. Nutr. Rev. 2020;78(5):394-411. https://doi.org/10.1093/nutrit/nuz072
Udonwa R, Iyam MA. Impact of stress on nutrition and productivity (A Study of Southern Cross River State, Nigeria). Int. J. Nurs. Midwife Health Relat. Cases. 2015;1(2):41-53.
Ulatowski LM, Manor D. Vitamin E and neurodegeneration. Neurobiol. Dis. 2015;84:78-83. https://doi.org/10.1016/j.nbd.2015.04.002
Viljoen M, Swanepoel A, Bipath P. Antidepressants may lead to a decrease in niacin and nad in patients with poor dietary intake. Med Hypotheses. 2015;84(3):178-182. https://doi.org/10.1016/j.mehy.2014.12.017
Wang Y, Liu XJ, Robitaille L, Eintracht S, MacNamara E, Hoffer LJ. Effects of vitamin c and vitamin d administration on mood and distress in acutely hospitalized patients. Am J Clin Nutr. 2015;98(3):705-11. doi: 10.3945/ajcn.112.056366
Wang J, Um P, Dickerman BA, Liu J. Zinc, magnesium, selenium and depression: a review of the evidence, potential mechanisms and implications. Nutrients. 2018;10(5): 584. https://doi.org/10.3390/nu10050584
Wang Z, Li C, Teng Y, Guan Y, Zhang L, Jia X, Cui D, Li J, Guan H. The effect of iodine-containing vitamin supplementation during pregnancy on thyroid function in late pregnancy and postpartum depression in an iodine-sufficient area. Biol Trace Elem Res. 2020;198(1):1-7. https://doi.org/10.1007/s12011-020-02032-y
World Health Organization. Body Mass Index – BMI. Date of Access: 2021/11/20; Avaible from: https://www.euro.who.int/en/health-topics/disease-prevention/nutrition/a-healthy-lifestyle/body-mass-index-bmi.
Xu H, Li S, Song X, Li Z, Zhang D. Exploration of the association between dietary fiber intake and depressive symptoms in adults. Nutr. 2018;54:48-53. https://doi.org/10.1016/j.nut.2018.03.009
Ye S, Shah BR, Li J, Liang H, Zhan F, Geng F, Li B. A critical review on interplay between dietary fibers and gut microbiota. Trends Food Sci Technol. 2022;(124):237-49. https://doi.org/10.1016/j.tifs.2022.04.010
Yeniocak TA, Yapıcı G. Evaluation of students' depression, anxiety and stress levels in a medical faculty. Turk J Public Health. 2019;17(2):153-168. doi: 10.20518/tjph.423636
Young LM, Pipingas A, White DJ, Gauci S, Scholey A. A systematic review and meta-analysis of b vitamin supplementation on depressive symptoms, anxiety, and stress: effects on healthy and 'at-risk' individuals. Nutrients. 2019;11(9):2232. https://doi.org/10.3390/nu11092232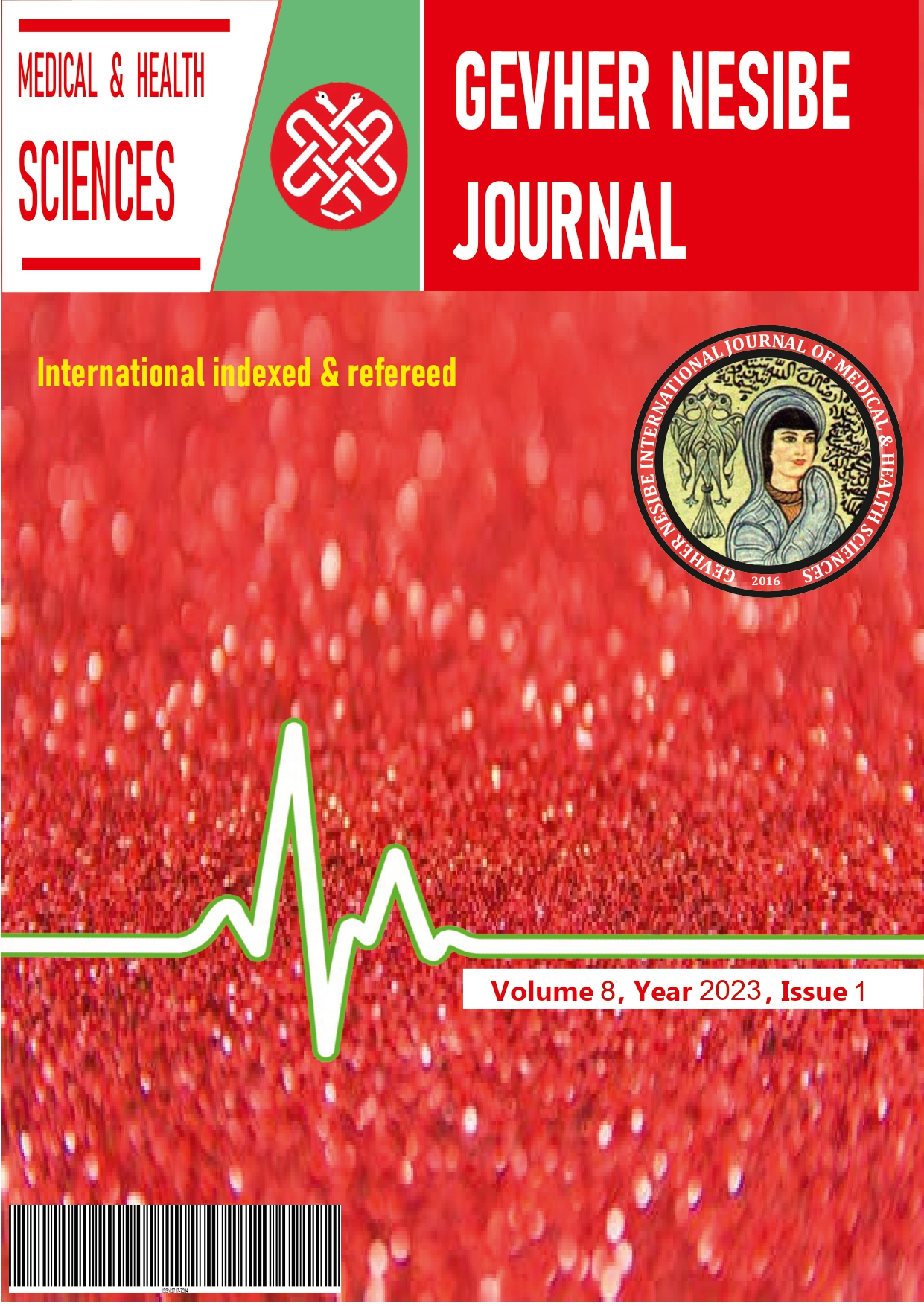 Downloads
How to Cite
HAMURCU , P. (2023). The Relationship of Dietary Nutrients with Depression, Anxiety and Stress: A Sample of Nutrition and Dietetics Students. GEVHER NESIBE JOURNAL OF MEDICAL AND HEALTH SCIENCES, 8(1), 190–201. https://doi.org/10.5281/zenodo.7601520
License
Copyright (c) 2023 GEVHER NESIBE JOURNAL OF MEDICAL AND HEALTH SCIENCES
This work is licensed under a Creative Commons Attribution-NonCommercial 4.0 International License.